Innovation & Application Stage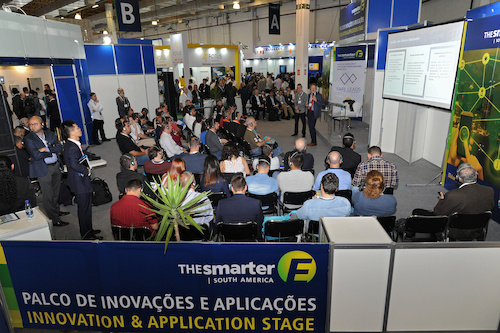 This stage is a central platform where on three days, visitors are invited to see innovations, solar industry trends, as well as educational trainings presented by The smarter E South Americas exhibitors and partners.
Topics range from project presentations to technical discussions and solutions for renewable energy in Brasil.
The Exhibition Program will be available soon.
Workshops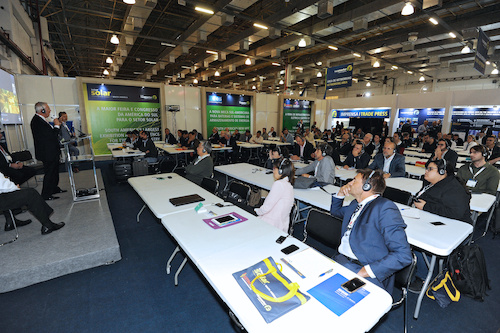 The smarter E South America is offering a number of engaging workshops. Learn from experienced presenters and see instructive best practices and case studies. Gain an edge on competition, and leave with valuable insights or hands-on knowledge from one of the technical trainings.
Further details of the Exhibition Program will be available soon.
Are you an exhibitor and interested in organizing a workshop? Register for a presentation via the Exhibitor Cockpit!
Minicursos Eletrotec (in Portuguese)
October 19, 10am-1pm: Aterramento e Equipotencializaçã
O aterramento tem sido causa de muitos eventos comprometendo a segurança de pessoase bens e o funcionamento das instalações elétricas. Mas grande parte dos problemas nãosão devido aos eletrodos de aterramento, mas à equipotencialização nas instalaçõeselétrica. Estes conceitos foram introduzidos na edição de 2004 da NBR 5410 e na NBR5419-4, em 2015. O curso tem como objetivo a apresentar os conceitos mais modernos deaterramento e equipotencialização nas instalações elétricas de BT, assim como a suaimplementação.
October 19, 2pm–5pm: Medidas de Proteção contra surtos
Os surtos de tensão e corrente devido às descargas atmosféricas causam falhas emsistemas elétricos, interrompendo operações de empresas, danificando equipamentos oureduzindo a vida útil de componentes eletrônicos. O curso busca auxiliar profissionais aprojetar sistemas de aterramento, equipotencialização, roteamento de cabos, blindagens,interfaces isolantes e Dispositivos de Proteção contra Surtos (DPS).
October 20, 10am–1pm: Instalações de Sistemas de carregamento de VEs
O mercado de veículos elétricos apesar de incipiente no Brasil, está em forte crescimento, emuito têm-se investido em sistemas de recarga para formar uma rede de eletropostos. Ocurso visa capacitar engenheiros e técnicos a desenvolver o projeto elétrico e executar ainstalação de carregadores para veículos elétricos, seguindo-se as normas técnicas ABNT eIEC, além de boas práticas.
October 20, 2pm–5pm: Projetos de Instalações FV
As usinas solares de geração distribuída têm apresentado a performance esperada? Quaisos pontos a serem observados, ensaios e análises a serem realizadas após a conexão dausina? O curso apresentará uma metodologia para avaliações dessa performance eanalisará os diversos problemas que podem ser encontrados e que irão impactar nodesempenho da usina.